+1

Demystify the Housing Price Index
Demystify the Housing Price Index
What is the HOUSING PRICE INDEX (HPI)?
The HPI is a measure of the rate of price change, over time, for residential properties. The HPI is widely used by realtors, their clients and it provides the most reliable information on housing price trends.
The HPI has also been implemented in Calgary, Toronto, Montreal and other provincial & national real estate boards and assists Realtors to:
- Understand current market conditions and future price trends in a particular housing market.
- Estimate the current market value or selling price of a typical property by updating a historical market value or sale price.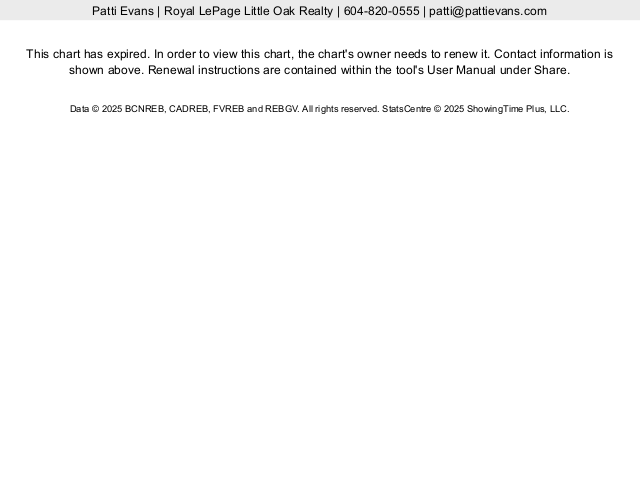 The HPI is similar to Canada's Consumer Price Index (CPI). The CPI tracks the market price of a constant quality basket of goods typically consumed by Canadians. Whereas the CPI measures consumer price inflation (or deflation), the HPI measures housing asset price inflation (or deflation)
The HPI is obtained by comparing, through time, the price paid for a benchmark property. A benchmark property is precisely defined property(s) which is typical
within a specific housing market and is held constant over time. Benchmark properties are conceptual rather than physical. Changes over time in the price of a benchmark property
are therefore not due to changes in the size or quality of the property, as is found with 'average house values'. The HPI uses advanced statistical methods to estimate
benchmark property prices based on the prices and qualities observed on actual property sales.
Thus, the HPI measures typical, pure price change (inflation or deflation) and is focused on 2 factors: a property type and a geographic area. In Mission
we have 8 geographical areas and the HPI graphs shown here reflect 3 property types: Detached houses (not including acreages), attached Townhomes and Apartments.
Isn't it interesting to see how property values have fluctuated since January 2011?

Sales across the Fraser Valley Real Estate Board see 5 year high for month of July
Continued demand for single family homes and townhomes resulted in the busiest July in five years for the Fraser Valley Real Estate Board (FVREB). Strong increases from market downturns since 2008, are an indication the housing market is robust and healthy. This is the 4th consecutive month we have seen a higher sales ratio compared to 1 year ago.
The FVREB has recently released current housing market information for the 6 communities within the Fraser Valley Board's region and the Board President commented on the findings:
"July's steady activity is a continuation of what we've been seeing all year. Our market has fully recovered from last year's slump and has returned to what we typically see in the Fraser Valley, which is a steady, consistent market."
-Ray Werger, Fraser Valley Real Estate Board President
Although we have seen a strong "Spring Market', across all types of properties for the entire Fraser Valley Region, it is important to consider that depending on the specific geographical area, market sectors (condos, townhomes, single family, and acreages) there are notable variations. Detached single family home sales have been very strong, however the strata titled market sector remains sluggish, particularly in Abbotsford and Mission areas.
Make sure you contact a local real estate agent and ensure they use accurate data in the evaluation of your specific needs whether selling or for a prospective purchase of a property. Because each city or town will have a unique market in contrast to statistical findings of the entire Fraser Valley, it is important to review available data specific to where you will be purchasing or selling your home or property. For the purposes of this blog post I will break down some of the trends that I see, specific to Mission.
Experienced Real Estate agents often refer to 'the absorption rate'. This ratio is a metric used to gauge the health of the housing market; it relates to the total number of sales relative to the total number of current active listings within a particular market sector. Find below a table which indicates the housing market data that is specific to Mission with findings relevant to the table:
Key Findings for the month of July:
· 21% absorption rate for single family homes, meaning for every 100 homes 21 were sold.
(Homes on acreage, which have significant variations & unique characteristics are not included in this sector)
We saw a 2.5% increase in Benchmark prices compared to 1 year ago.
· 25% absorption rate for Townhomes
(In Mission this does not include detached Townhomes or Bare land Strata)
We saw a 1.8% decrease in Benchmark prices from last July.
· 5% absorption rate for Apartments/Condos
There continues to be a decline in Benchmark prices from last year.
As seen below in the FVREB Chart, the decrease in 'Active listings' has naturally resulted in a higher absorption rate, typical for our summer months.
Please note the data reflects a 'snapshot' of the market for 1 month only, compared to same month a year ago.
Mission

Detached

Townhouses

Apartment

Jul-14

Jul-13

% Change

Jun-14

% Change

Jul-14

Jul-13

% Change

Jun-14

% Change

Jul-14

Jul-13

% Change

Jun-14

% Change

Sales

68

56

21.4%

59

15.3%

3

1

200.0%

6

-50.0%

2

2

0.0%

2

0.0%

New Listings

88

79

11.4%

92

-4.3%

7

3

133.3%

4

75.0%

5

4

25.0%

2

150.0%

Active Listings

262

303

-13.5%

286

-8.4%

26

33

-21.2%

24

8.3%

40

36

11.1%

37

8.1%

Benchmark Price

$368,500

$359,600

2.5%

$361,800

1.9%

$221,900

$225,900

-1.8%

$218,900

1.4%

$156,700

$156,000

0.4%

$157,600

-0.6%

Median Price

$394,650

$371,000

6.4%

$379,000

4.1%

$226,000

$183,500

23.2%

$232,500

-2.8%

$215,000

$154,000

39.6%

$213,250

0.8%

Average Price

$411,460

$366,741

12.2%

$385,588

6.7%

$228,000

$183,500

24.3%

$227,666

0.1%

$215,000

$154,000

39.6%

$213,250

0.8%
This table shows a strong, balanced market for houses and townhomes in Mission. A balanced market is determined and defined by 2 main factors:
1. It is a market where Home Sellers are receiving offers within 3 – 5 weeks after coming onto the market OR
2. A market where the ratio of sales is 18% to 22% of the total 'active' listings for that market segment.
To sum it up, this tells us how quickly inventory is being sold and what if any change is found with our Benchmark Prices (or market value comparisons).
So what does this mean to you as the consumer? A balanced market is a strong indication that it is both a favourable sellers' market and favourable buyers' market, meaning current prices may rise, depending on inventory levels, but at a slow and steady rate.
Sellers:
· Well priced properties are selling in a very reasonable time.
· With historically low interest rates, affordability for Buyers is enhanced.
· An experienced Real Estate Agent will show you data for recent sales and 'comparable properties' so you list & sell with confidence.
Buyers:
· Price increases have plateaued & in some sectors, decreased.
· Low interest rates have increased your buying power.
· A full-time Professional Real Estate Agent will have access to new listings & get you a viewing asap to avoid competing with other Buyers.
If you or anyone you knows needs a 16 year professional Realtor, with sound Market Knowledge, strong negotiating skills and a reputation for exemplary service, contact me anytime.
"How may I assist you?"



Mission's Blooming Fitness Market: 5 Local Businesses on the Rise



The city of Mission is quickly catching up with metropolitan epicenters obsession with contemporary fitness options. New small businesses offering great fitness services and programs are springing up all over town. What an excellent move in the right direction, as 15.9% of us British Colombians are overweight! And this statistic is expected to rise! I wanted to take the opportunity to mention a few fitness businesses that have been gaining momentum and have been a great addition to our community.
Believe in yourself!Have faith in your abilities!Without a humble but reasonable confidence in yourself you cannot be successful or happy. — Perseverance Fitness (@bootycamptrx) February 20, 2013
Perseverance Fitness is operated by Mission city gal (born and raised), Katelyn Brown. This business is full service when it comes to your specific fitness needs. The plethora of services offered by Perseverance includes weight training, booty camps, pre/post-natal fitness, nutritional management and more! Perseverance is also very active in community involvement, often holding group training sessions to garner donations for people in and of the community. I am rather new to this whole social media tweeting… twitting? Anyways, Perseverance is very active on social media and I've learned lots from the various content the company has to offer, they are very easy to find online. If you're ready for a good, hard work-out, I recommend checking out this business.



Allure fitness' keeps its clients in peak physical health with the art of… well,…pole dancing of course! Even the thought is enough to raise an eyebrow. However, pole dancing for fitness is far from that nightmare you may have had, fretting about what career decisions your kids could possibly make. For the sake of fitness, the latter 'dancing' is often replaced, for obvious stigma reasons. In reality, Pole 'Fitness' is a hyper-strengthening, hyper-cardiovascular training regimen that works every part of your body. The amount of involvement of the body's core, arms, legs and abs are astounding and sure way to improve overall fitness and well-being. It's also wildly popular because it's an entertaining and fun group activity for you and your friends.
Allure fitness also offers Zumba. Though I do not see myself doing much upside-down, acrobatic pole fitness in the near future, Zumba is an activity I'm sure anyone can enjoy. Meaghan, the Zumba instructor is a trained dancer and in the past has even taken her passion to the stage, performing at 5 star resorts in Riviera Maya.



Paddle Board Lessons & #Yoga this Sunday in #AbbotsfordBC http://t.co/cpGpQ52pFe #SUP #Wakeupsup #MissionBC

— Iron Lotus yoga (@IronLotusYoga) July 10, 2014
Ahhhhh….Namaste. I think we can all agree that real estate agents are constantly working, constantly on the go. How I would love a little more serenity in my daily schedule! This is why I've added Iron Lotus Yoga to my list. Yoga has superabundance of health benefits, both physical and mental. Mission is really moving up in the world in terms of fitness trends because Iron Lotus offers Infrared Hot Yoga! Along with a diverse range of types of yoga (I had no idea there were so many) Iron Lotus has a class that will fit anyone's unique preferences.

I apologize but there really is no appropriate segue to this: Iron Lotus also rents and teaches paddle-boat classes! I'm so glad yoga has passed the test of what some call a 'fitness fad'. Strange criticism, seeing as yoga is believed to have been around for around 5,000 years.



When I first heard this was coming to town, I was immediately intrigued. Well, first perplexed because I had no idea what the heck it was. What was this Oxygen Yoga they speak of? A strange custom from our metropolitan friends to the west?

After further research I found Oxygen Yoga is a rapidly growing franchise that offers a diverse set of yoga programs to meet anyone's needs. They even offer yoga for kids (mini yogis). Similar the Iron Lotus, Oxygen also offers infrared yoga. Mission is rapidly growing and there is room for more than one yoga studio, plus there is nothing wrong with a little healthy competition.



Anytime Mission is excited to announce that we will be taking part in Missionfest this year!!! Come down and... http://t.co/jauULZeC7s

— AF Mission (@AFMission) July 12, 2014
It is common knowledge that Anytime Fitness is operated world-wide. Though I am all for independent local business, this is an independent franchise location and it's helping stimulate economy in our community, therefore it will make this list. Anytime is a 24 hour fitness centre. In addition to a full gym with all the usual amenities, Anytime also offers personal training, tanning and private showers. The mission branch is already getting involved with the community as well! With a low monthly rates, it is definitely worth looking into.



It is so very refreshing to see businesses that are striving to be at the forefront in methods of physical health. I am proud to say I am part of a community that holds health and wellness in high regard. I can't wait to see future trends that come our way….but hold the Kombucha, please.

Have you tried any of the businesses listed above and what did you think?